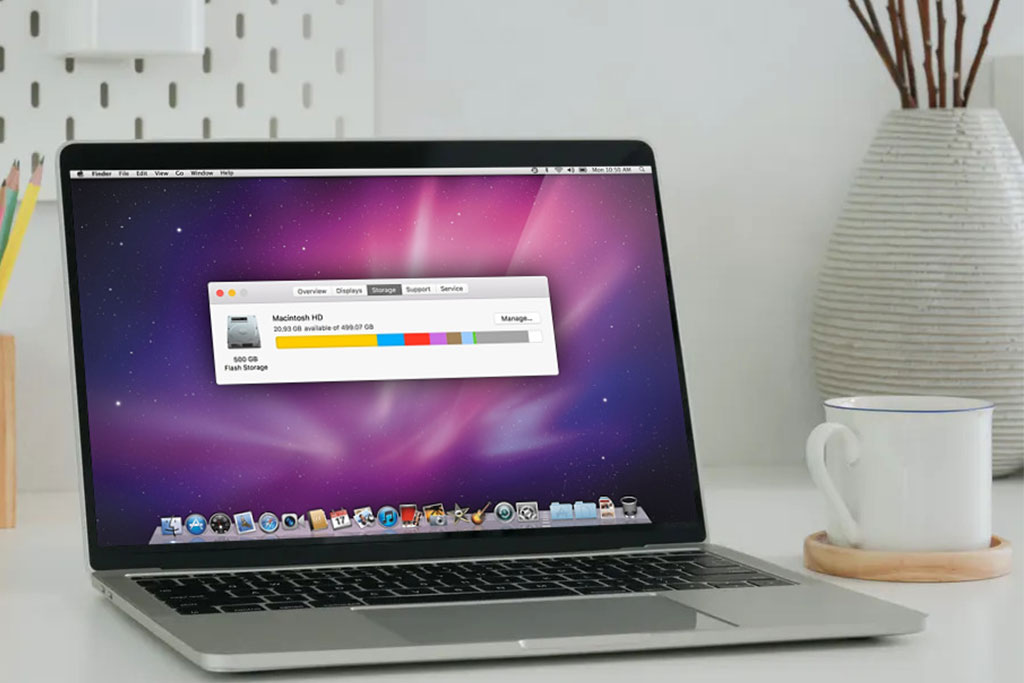 09 Feb

How to Clear Disk Space on Mac

It's 2021 but still, we have to face speed issues on our computers! It's understandable though; machinery tends to slow down with period. What we need is to learn how to smartly tackle these things. To help you do that, we have come up with this post that shares some easy and fail-safe ways to clear disk space on Mac.

If you're wondering how much space you can get after disk cleanup on your Mac, let us help you understand that. In case you use your Mac quite a lot and have not cleaned it up for a while, you can free up more than 50% of the total storage space (depending on your usage). You can check how much space is occupied by clicking the Apple icon on your home screen and selecting "About this Mac". Check the storage option and the total space and how much freedom is left here in this window.
Clear Disk Space on Mac Manual Ways
Reduce Unused Files
You don't know but there's so much clutter on your system that needs to be deleted. This clutter, comprising of old docs, is just taking up space for nothing. Whether you go to About My Mac or delete unnecessary documents directly, you can free up a lot of space on your Macintosh to do necessary tasks.
Uninstall Unused Apps
In this era of smart shortcuts, who wants a ton of different apps to do different tasks? The problem is that you don't even realize that with time, your Mac has housed a huge number of apps, many of which you don't even know exist. You don't want them, for sure.
Guess what? You can save hundreds of GBs by uninstalling these unused apps on your Mac. All you need to do is launch Finder and navigate to the Apps tab to sort your installed apps by their size. Choose which ones you don't want and drag each one to the Trash icon. Empty Trash afterward.
Here, you can also use apps like Mac Optimizer Pro to do this task quickly and in bulk. Furthermore, it also deletes the leftover data associated with the uninstalled apps which are very difficult to do manually.
Delete Temporary Files
The temporary files on your Mac consist of cache and cookies. The cache is a file that your computer creates when you open a webpage or do a task on your system. Cookies are the data that your web browser receives to customize your experience. When piled up, this data can take up a huge space on your Mac, making it slow.
Here's how you can clear the cache on Mac:
Go to Finder > Go > Go to Folder
Enter /Library/Caches in the given field
Delete the contents of this folder
Here's how you can clear cookies and other web browser data on your Mac:
Open your web browser (each browser one by one)
Go to their settings
Tick all the data " cookies, history, cache stored in the web browser".
Click Remove
Note: Every browser has a different way to do this task.
Empty Trash
Make it a habit of dumping unnecessary files and folders into the Trash icon and keep clearing up this icon frequently. You can also free up Trash automatically this way: go to Apple on the home screen. Click About This Mac > Storage > Manage. Click the left side tab named Recommendations and hit the Empty Trash Automatically button.
Remove Duplicate Files
Your computer has the habit of making duplicate files without you even realizing it. The problem is that these files are space-consuming. While you can use iTunes to delete the media files stored in the iTunes library, you need to use a third-party app to remove other duplicate files from your Mac. Finding them by yourself takes so much time as you will have to sort each and every folder by the same name and different file sizes.
Delete iTunes Backups
Although iTunes backup can be important, these take a lot of space on your Mac's hard disk. If you really need to free up good space, you can get rid of these files by either making their backup on the iCloud app or removing them altogether. To delete these files, go to Preferences > Devices and remove the duplicates you don't want.
Clear Disk Space on Mac Automatically
All these tasks can take a lot of your time, especially if you don't have in-depth technical knowledge of your computer. You can clear up disk space on your Mac quickly by using Mac Optimizer Pro. Once you run the app, you can schedule it to automatically run scans and fix issues on your Mac. Alternatively, you can also run the scan whenever you need to remove speed issues and unused items on your system in a safer and quicker way.